Polished Concrete – What are the FAQs?
---
Popular Questions – The Ins and Outs of Polished Concrete
---
Can you polish an existing concrete slab?
Any concrete that is in reasonable condition is polishable, however, the better the condition of the concrete, the greater chance of achieving a better result.
What if the concrete is in poor shape? Can you do anything if it's old and worn, or if it has several coatings already applied?
Concrete in poor condition can be polished but you may have some blemishes in the finished product.
In regards to coatings, we grind them out and start on clean concrete.
What does polished concrete cost?
The cost of polished concrete varies depending on the amount of exposure and sheen desired.
Prices can start from $95 plus GST and can reach or slightly exceed costs of $120 plus GST.
How long can I expect polished concrete to last?
Polished concrete should last a lifetime, as long as it is cared for in the right way.
The good thing about polished concrete is that it's not difficult to rejuvenate and is very easy to maintain.
What types of polished concrete do you offer?
We offer a wide range of polished concrete in a variety of stone exposures such as no stone exposure, minimal exposure and full stone exposure.
We also offer different levels of sheen, ranging from a matte finish to a high gloss finish. The shinier the floor, the more stain-resistant it is as polished concrete has no sealer (it's mechanically polished).
Will a forklift ruin the floor?
Factory-burnished floors can be polished and as long as the wheels of the forklift are rubber there should be no problem.
Is polished concrete slippery?
Definitely, polished concrete can be slippery which is something to be wary of, however, it is only slightly more slippery than traditional tiled floors.
Can I polish an outdoor concrete floor?
Polished concrete is not suitable for outdoor concrete because it has a high slip factor.
We recommend an acid etching or grind and seal approach as either is a great alternative.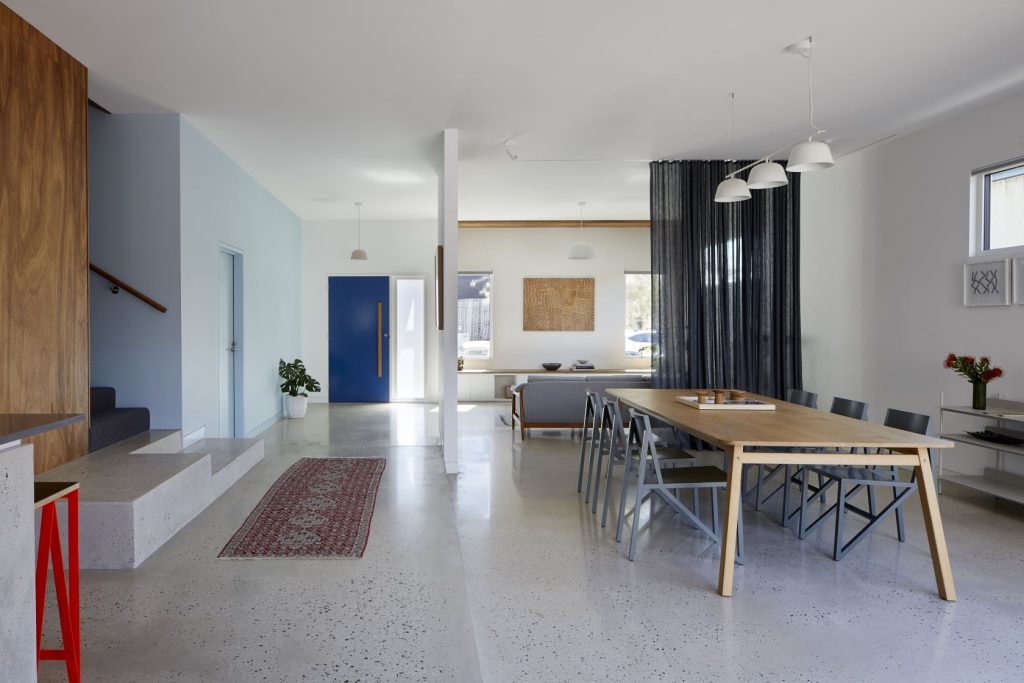 ---
The Process – How Things Work and Things to Consider
---
How long does concrete polishing take?
At F.K.R Constructions, we tend to not put a timeframe on our polished concrete jobs as there are multiple factors that can impact this but we normally target approx 10-15 sqm per day.
Is the polished concrete process dirty, dusty, or messy?
Even with the use of the latest vacuums on the market, concrete grinding is still dusty and messy.
The dust is not in the air though, it will stay on the ground.
How long before I can walk on polished concrete?
Once the job has been completed you can normally walk on polished concrete the next day.
If I'm building a new house and pouring a new slab, at what stage is it best to get the concrete polished?
With a new slab, it's a great idea to grind it open after a couple of weeks, this enables the grinder to get right up to the edge of the slab and it's easier to control stone exposure. Most people do a 30-grit cut or a 70-grit cut with some grout – we then return at lockup just before the plaster is put up to complete the floor.
How soon after the slab has been poured does the concrete grinding/polishing get done?
The ideal time for concrete grinding to be completed is before the framing stage while concrete polishing can be started at lockup so it's protected from the weather.
What happens if the floor gets damaged during the build?
Concrete polishing is very difficult to repair so we must endeavour to protect it as much as possible during the build phase.