FKR offers a range of injection services to suit all types of damaged concrete structures
Injection is typically used on horizontal, vertical and overhead cracks where conventional repair methods cannot penetrate and deliver the specific repair product into the crack.
Prior to proceeding with a crack repair by epoxy injection, the cause of the crack and the need for a structural repair must be determined. If the crack does not compromise the structural integrity of the structure, injection with polyurethane grouts or other non-structural materials may be a more suitable choice to fill the crack. When a structural repair is required, conditions that cause the crack must be corrected prior to proceeding with the epoxy injection.
Epoxy Crack Injections
If you have a widening crack in your residential or commercial property that's causing you problems, don't panic. Here at FKR Constructions & Services, we are the go-to experts when it comes to fixing concrete cracks and securing your building.
We have been sealing concrete cracks in the Melbourne area for over 16 years and have never failed to find a solution to even the most serious and stubborn problems.
Whatever concrete related issue you are facing, you can trust us to find the most efficient and most affordable solution for you.
Specialising in all aspects of concrete & concrete repairs.
The Best Concrete Crack Repair in Melbourne
We are the most trusted company in the Melbourne area when it comes to foundation crack repair thanks to our experienced and highly trained team.
Each one of our tradesmen have encountered complications caused by cracks in concrete and have the technical expertise to evaluate the damage and select the appropriate concrete crack filler to fix it.
The first analysis our team will perform when called to the scene is an evaluation of the concrete structure.
Whether it's a crack in the wall or in the ceiling, we must first determine whether the damage has affected the structural integrity of the building and made it unsafe to work on.
If the structural integrity is intact, we will advise the use of a polyurethane concrete crack sealer as the best course of action.
If the structural integrity is not intact, we will advise the use of an epoxy injection.
Experts in Epoxy Crack Injections
A concrete repair epoxy injection is usually advised when the structural integrity of the concrete has been compromised, leading to more serious damage.
Epoxy injection concrete crack repair is the most reliable sealer to use, as it is incredibly strong and reliable.
An epoxy solution takes a couple of hours to set, meaning that it feeds into all the nooks and crannies within the concrete and fills cracks that are not visible to the eye.
The resin and hardener compound of the epoxy sealer will also provide a waterproof finish that will stop any water from leaking into the crack and make it bigger.
Call us Today for Support and Advice on Epoxy Concrete Repair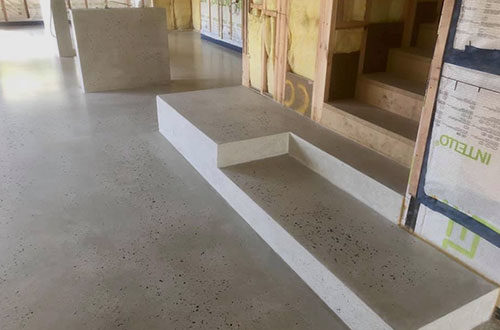 Don't hesitate to get in touch with us if you've got a crack in your floor or ceiling and are wondering whether a concrete epoxy injection is suitable to seal it.
Our years of experience will help us evaluate the damage and decide which product is most suitable for the job.
We're available from Monday to Saturday by phone on 1300 570 888 or via e-mail at info@fkrconstructions.com.au.
Our friendly team is happy to give you a free no obligations quote so get in touch with us today!
More than Just Epoxy Crack Repairs & Injections
FKR Constructions are Melbourne's best concrete contractors. We specialise in floor levelling, epoxy crack injections, epoxy floor coating, polished concrete, concrete garages, concrete kitchens, concrete benchtops, concrete bathrooms, concrete stairs, concrete driveways and concrete sealings.

Get In Touch