Floor Levelling Concrete Services
Leveling a floor is delicate work, which is why it's necessary to find the most competent and trustworthy company to carry out this service.
At FKR Constructions & Services, we offer a range of services that enable our clients to feel that their home or office is in safe hands. Over the last 16 years, we have built a solid reputation for providing a wide range of different construction services to residents in the Melbourne area. Our reliable solutions and work and unbeatable customer service are just a couple of the reason why we're among the most trusted floor leveling contractors in Melbourne and the surrounding suburbs.
This is not only because our work is of the highest quality, but because we also believe in creating a friendly and comfortable work atmosphere so that each project is an enjoyable process for both our clients and our team. Get in touch with the FKR Constructions and Services team today to see why we're one of Melbourne's go-to floor levelling companies.
Specialising in all aspects of concrete & concrete repairs.
Self Leveling Concrete
We use a self levelling chemical mixture compound to smooth uneven concrete or wooden floors. It is ideal for filling dips in wooden timber floors or for smoothing concrete. It is very important to have an even-surfaced floor when planning to place ceramic tiles or any other floorings because uneven surfaces cause tiles to crack and show imperfections. Self levelling concrete is an affordable and versatile way to ensure your next renovation or development is a success. Learn more about FKR Constructions and Services' range of solutions for self levelling concrete for Melbourne residential and commercial properties by contacting our team today.
The Best Floor Levelling Melbourne has to Offer
As one of the best-known construction companies in the Melbourne area, our clients know that we will provide them with a 5-star service that will ensure their floor leveler requirements will be fulfilled as quickly and efficiently as possible.
We are comfortable guaranteeing 100% warranty on all our work and products because we only employ tradesmen with the highest qualifications and experience in the construction industry.
You won't find a more skilled team when it comes to levelling floors that are made out of materials ranging from wood and cement to concrete.
We can cater for projects of all sizes and all complexities. In addition, we offer floor-levelling services for both residential and commercial buildings so you can rely on us to provide you with level floors that will last for years.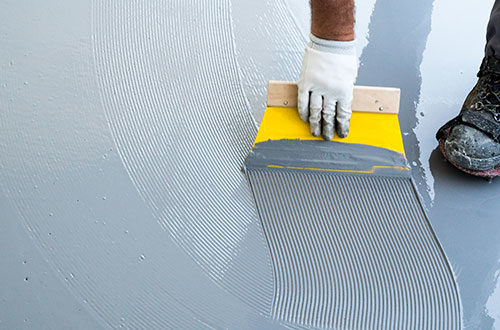 Cement and Concrete Floor Levelling
Whether you are planning to lay tiles on a cement floor or finish a concrete surface with polish, levelling will be the first step in the process. As the best cement floor levelling team in Melbourne, we pride ourselves on using the highest quality levelling products to create a beautiful and even surface.
This guarantees that any tiles or flooring that is laid won't crack or move following the process. We also guarantee the highest-quality concrete floor levelling Melbourne residents can rely on as our concrete floor leveler mixture compound produces amazing results.
Call us now for Floor Levelling in Melbourne
No job is too big or too small for FKR Constructions & Services so don't hesitate to contact us with your enquiries.
If you want to find out more about our floor levelling services, just give us call us now on 1300 570 888. We're also available via e-mail at info@fkrconstructions.com.au.
FKR Constructions is Melbourne's best concrete contractor. We specialise in floor levelling, epoxy crack injections, epoxy floor coating, polished concrete, concrete garages, concrete kitchens, concrete benchtops, concrete bathrooms, concrete stairs, concrete driveways and concrete sealings.
Floor Levelling FAQs
What's the price for floor leveling in Melbourne?
As a reference point, floor levelling typically falls in the range of $50 to $80 per square meter. However, request a quote to get an accurate cost because various factors come into play, such as the materials needed for the repair, the unevenness of your floor, the layout of the floor area, any necessary preparation work, site accessibility, and the current condition of the slab. These elements can affect the final price.
What is concrete floor levelling, and why is it necessary?
Concrete floor levelling is the process of ensuring a flat and even surface for various applications, such as flooring installations. It's necessary to eliminate unevenness, cracks, and imperfections in the concrete, creating a smooth, stable foundation for subsequent work.
How do I know if my concrete floor needs levelling?
Uneven or sloping surfaces, cracks, and dips in your concrete floor are indicators that levelling is required. If you plan to install new flooring, it's essential to have a level foundation to prevent problems like cracked tiles or uneven hardwood flooring.
What methods does FKR Construction use for concrete floor levelling?
We use a self-levelling chemical mixture compound to smooth uneven concrete floors. We guarantee the highest-quality concrete floor levelling Melbourne residents can rely on as our concrete floor leveller mixture compound produces amazing results.
How long does it usually take to level a concrete floor?
For smaller residential jobs, you can usually get it sorted in one to two days. But for larger commercial projects, you might be looking at several days to get the job done.
Can FKR Constructions level concrete floors in both residential and commercial settings?
Yes, we provide concrete floor levelling services for both residential, commercial and industrial properties. Whether you need a single room or an entire warehouse floor levelled, FKR Constructions have the expertise and equipment to handle the job.
What should I do to prepare for concrete floor levelling in my space?
Before the FKR Constructions team arrives, it's essential to clear the area of furniture, appliances, and any items that may obstruct the work.

Get In Touch