Polished Concrete Floors In Melbourne
A beautiful looking, low maintenance finish that is extremely scratch resistant. Suitable for new or renovated homes, office space, factories, warehouses and high traffic areas.
Imagine the "wow" factor when you achieve a granite bench top like finish on your floor or business from FKR Constructions and Services. Polished Concrete floors eliminate the need for the floor to be refinished with a sealer every few years and is an attractive, affordable and practical alternative to floor coverings. Polished concrete is considered a good sustainable design flooring option because it makes use of the materials already present.
FKR make the complex polishing process a breeze with their years of experience.
Polished Concrete For Interiors
At FKR Constructions and Services' we're the go-to name when it comes to affordable solutions in polished concrete floors and interiors for Melbourne residential and commercial properties. No matter the size or function of the property, our team have the experience and knowledge to get the job done. Working with a professional team means reliable advice, access to the highest-quality tools and fast, qualified service. When it comes to quality polished concrete services, never accept anything less than the very best. Contact our team today to learn more about what we can do make your floors shine.
Polished Concrete For Kitchen
Whether it's the kitchen in the family home or a bustling and fast-paced professional space, FKR Constructions and Services can provide a professional and reliable solution to get your concrete floors looking their best.
Concrete kitchens floors have to suffer through a high volume of foot traffic every day, but thanks to our trained team you'll be able to add years to the life of your floor and prevent any damage from wear and exposure, saving you time and money in the long run.
With our services for polished concrete kitchens and interiors Melbourne residents can add value to their property and invest in a floor that will create a brighter, more inviting space while adding a touch of sleek, modern design and style.
To learn more about our range of premier polished concrete finishes Melbourne customers can contact our team today.
Top 10 steps involved
Grind to achieve flatness and remove scratches
Grout to fill small holes and imperfections
Apply hardener by broom
Remove excess Hardener using 50 grit polishing pads
Apply lick coat of Hardener – allow to dry
Remove Hardener with 100 grit
Repeat coating of Hardener if required
Remove Hardener with 200 grit
Polish with 400, 800, 1500 or 3000 depending on desired finish eg. mat or gloss.
Apply lick coat of Enhancer – allow to dry & Buff off excess Enhancer
These steps are critical to the end result and FKR guarantee the use of high quality polishing pads and grinding heads.
Concrete Floor Polishing Melbourne
Are you looking for the perfect floors for your home or business? Are you feeling overwhelmed with all the choices on the market? Maybe you've just moved house and you desperately need to replace the old rotting floorboards or perhaps you're looking to spruce up your office space with a modern and stunning twist?
Whatever flooring dilemma you're facing, we've got you covered.
Here at FKR, we have over 16 years of experience in the construction industry and have provided many of our valued customers with the best polished concrete Melbourne has ever seen.
Why choose polished concrete floors?
If you're after floors that are practical, beautiful and affordable, we'd recommend polished concrete flooring.
Polished concrete is one of the best materials in the construction industry, which is why it's quickly becoming one of the most popular flooring options in Australia.
We provide the highest-quality polished concrete flooring Melbourne has to offer, so if you're looking for advice on polished concrete; don't hesitate to get in touch.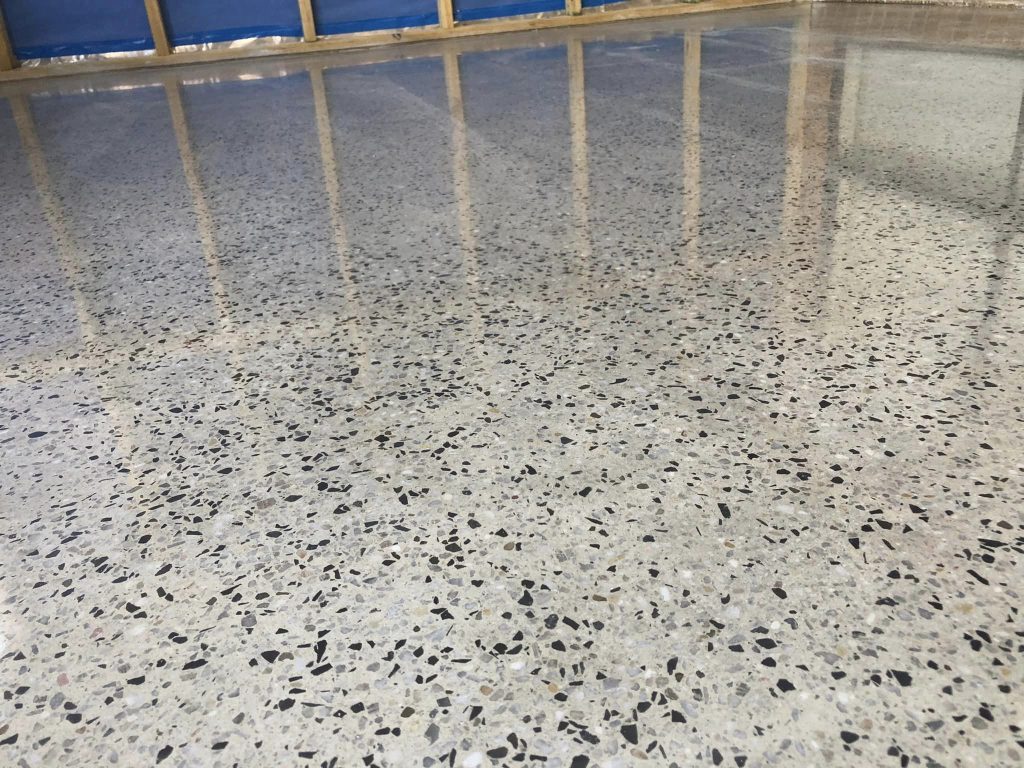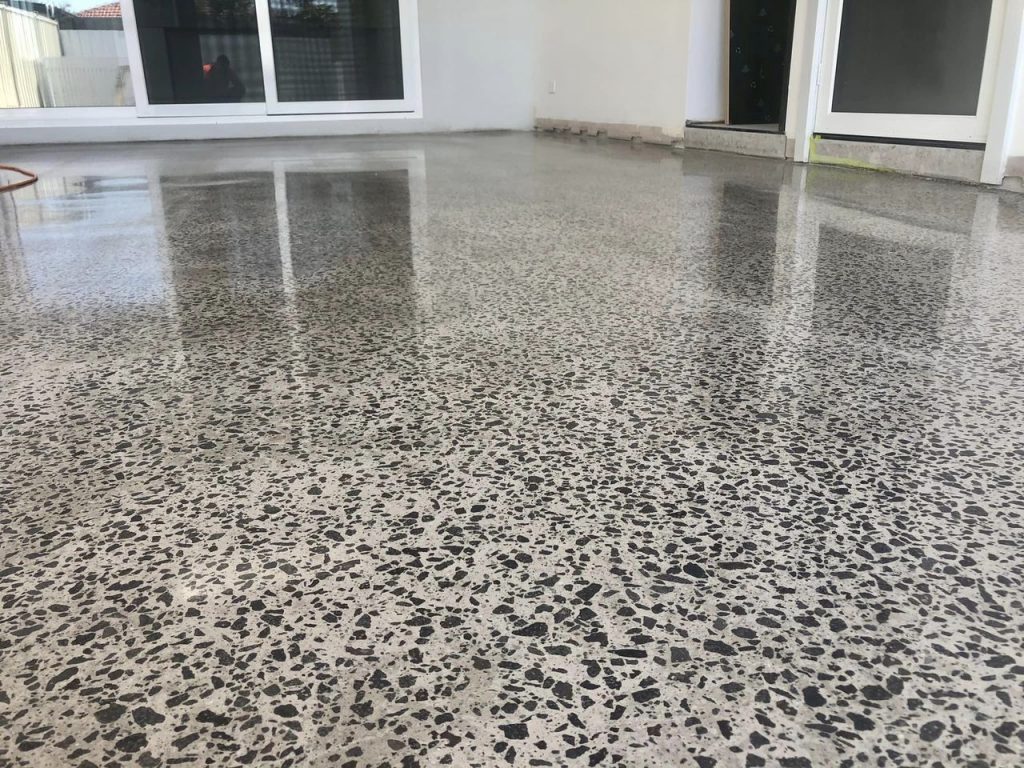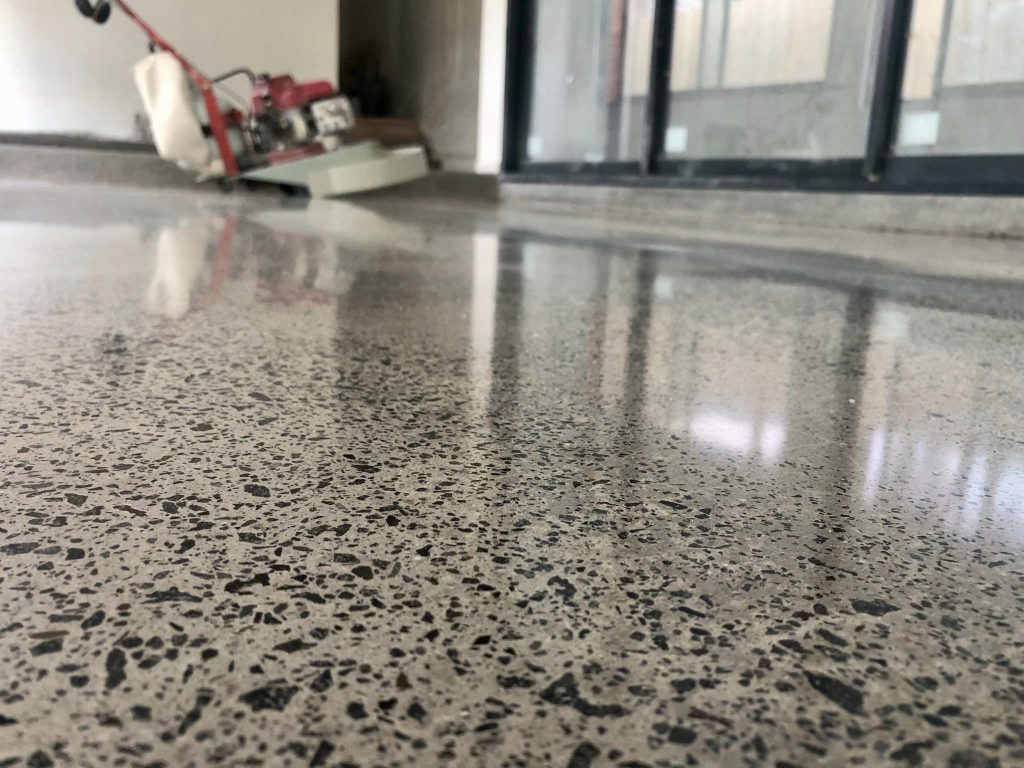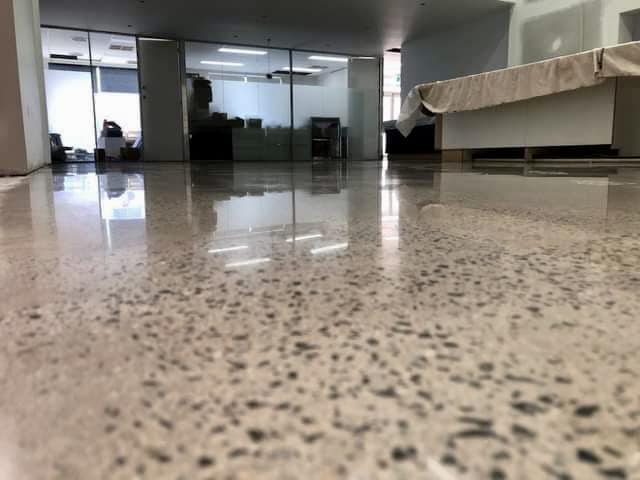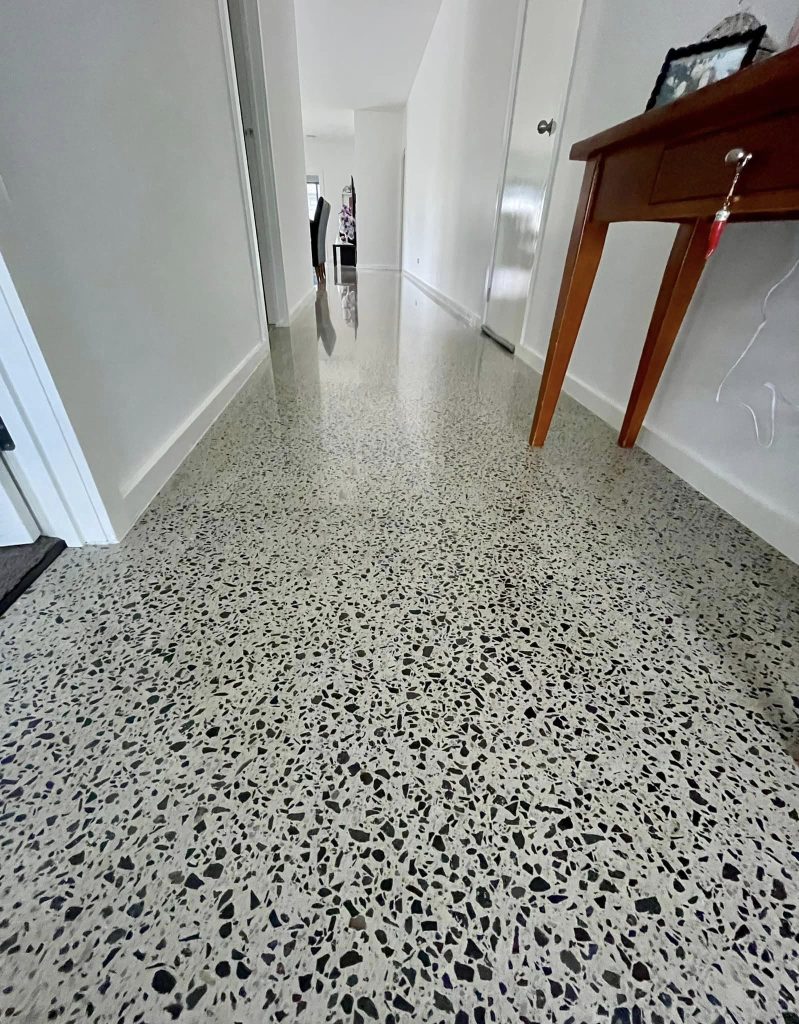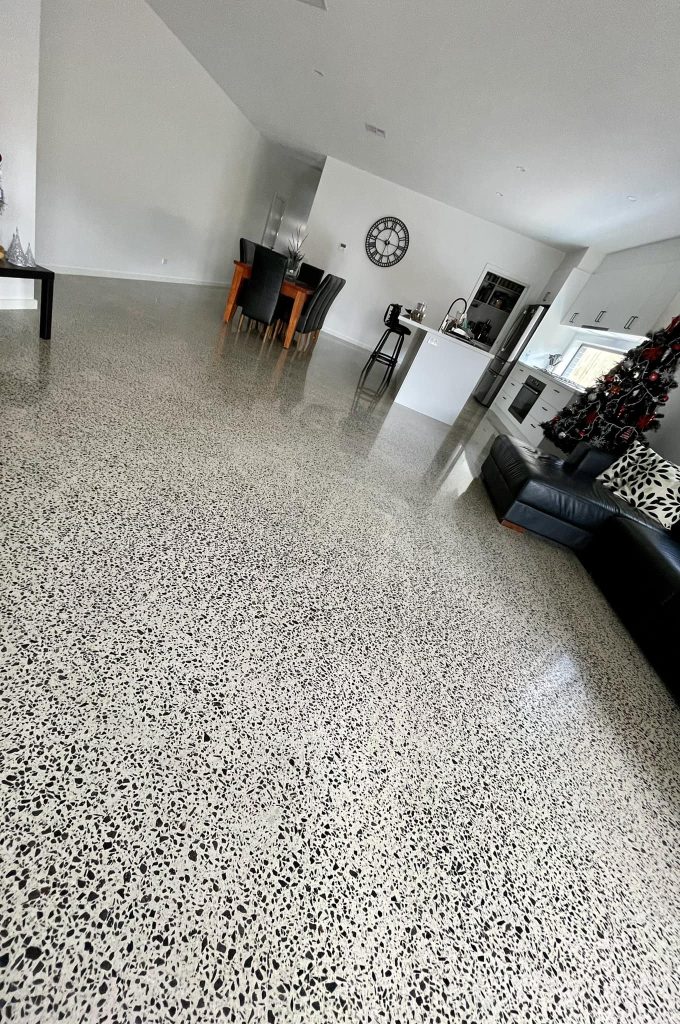 Specialising in all aspects of concrete & concrete repairs.
Here are our top reasons for choosing polished concrete for your flooring needs:
Polished concrete is sustainable
A polished concrete floor is now viewed as one of the most sustainable flooring options in the industry as it uses materials that are already present in a building.
Polished concrete is created using the exposed concrete slab that the building is built on. This means that you do not need to waste unnecessary energy installing more materials to create new flooring.
If you want to make an environmentally conscious choice when it comes to flooring, eco-friendly polished concrete is the floor for you.
Polished concrete is affordable
The sustainable benefits of polished concrete also mean that it is one of the most cost-efficient flooring methods available.
Using concrete that already exists within the building means that you do not have to spend extra time or money choosing and installing a brand new floor. With the material already present, you can just let FKR get to work!
New wooden floors or tiles can be really expensive, taking a big bite out of your budget.
If you only have a limited amount of money to spend on flooring, the low polished concrete floor cost will give you the best bang for your buck.
Polished concrete is low-maintenance
Maintaining floors can be a nightmare. From finding the right cleaning products to paying for yearly, waxing, polishing or sanding services, making sure your floors last can turn into a full-time job.
Polished concrete is incredibly easy to maintain, as it only needs some water and basic cleaner to keep clean.
There's no need to worry about waxing, polishing or sanding as polished concrete never loses its shine.
It's also incredibly durable so you don't have to worry about making any chips or dents when moving furniture around or dropping things on the floor.
Polished concrete is known to last for as long as 100 years (yes 100 years!) so if you're after that type of longevity, this is the floor for you.
Polished concrete is safe
Slip-resistant tapes and floor mats are also available to ensure the safest possible flooring for your home or office.
Polished concrete is also the safest flooring option for those suffering from allergies as dust mites and other allergens cannot spread as quickly as they can on traditional flooring such as carpets.
Polished concrete is Available for New and Retrofitted Buildings
Whether you're building a new house or you want to replace old floors in an existing one – polished concrete is the material for you.
If you're building a house and have your eyes set on polished concrete, let your builders know as soon as possible. This will allow them to use high-quality concrete with the properties necessary for a polished finished.
Polished concrete can also be retrofitted in existing houses. The better condition the existing concrete slab, the less work it will take to transform it into a beautifully polished floor.
Polished concrete is beautiful
Polished concrete is one of the most attractive flooring options for homes and businesses.
It has a high level of light reflectivity, which allows it to increase the level of natural light in any room.
It is also customisable so you can select the level of polish you desire for your floor. If you prefer a matte finish you can request a grit level between 100 and 400. A highly polished finish in which you can see your reflection can be obtained with a grit level of at least 800.
Whatever concrete floor polishing finish you're looking for, we'll be able to deliver.
Looking for the best concrete polishing Melbourne has to offer? Contact us today!
FKR Constructions and Services is the most reliable company in Melbourne when it comes to creating high-quality floors made of polished concrete.
Our team has years of experience providing commercial and residential polished concrete flooring in the Melbourne area and are experts in providing services in all aspects of concrete fitting and maintenance.
Our clients are our priority so we make sure to provide professional, affordable and safe services on every one of our jobs.
If you want the best polished concrete floors Melbourne has ever seen, contact us today.
Contact the Polished Concrete Floor Experts Today!
You can give us a call on 1300 570 888. Alternatively, feel free to send us a message via our website and we'll get back to you as soon as we can.
FKR Constructions are Melbourne's best concrete contractors. We specialise in floor levelling, epoxy crack injections, epoxy floor coating, polished concrete, concrete garages, concrete kitchens, concrete benchtops, concrete bathrooms, concrete stairs, concrete driveways and concrete sealings.
Polished Concrete FAQs
Do polished concrete floors require a special type of cleaning?
Polished concrete floors are relatively easy to clean. Regular sweeping and damp mopping with a pH-neutral cleaner is usually sufficient. Avoid using harsh chemicals or acidic cleaners, as they can damage the surface.
Can I install polished concrete floors in a DIY project, or should I hire a professional?
While it's possible to attempt a DIY polished concrete floor project, it is a complex and labor-intensive process that requires specialized equipment and skills. Hiring a professional is often recommended to ensure a high-quality result.
Can polished concrete floors be used in outdoor spaces?
Polished concrete is typically designed for indoor use due to its sensitivity to environmental factors. However, outdoor concrete can be sealed and treated for enhanced durability and resistance to the elements.
Can existing concrete be polished, or is new concrete necessary?
Both existing and new concrete can be polished. However, the condition of the existing concrete will impact the final result. Cracks and damage may require repairs before polishing.
Are polished concrete floors slippery?
Polished concrete floors can be slippery when wet. To mitigate this, anti-slip additives can be applied or textured finishes can be used in areas prone to moisture.
How do I maintain polished concrete floors?
Polished concrete floors are relatively low-maintenance. Regular cleaning with a pH-neutral cleaner and occasional resealing can help maintain their shine and durability.
Can I customise the appearance of polished concrete floors?
Yes, polished concrete floors are highly customisable. You can choose from various aggregate exposure levels, colours, and sheen levels to achieve the desired aesthetic for your space.
Are polished concrete floors suitable for residential use?
Polished concrete floors are becoming increasingly popular in homes. They are a great choice for areas like kitchens, living rooms, and basements due to their durability and modern look. However, some homeowners prefer rugs or area rugs for added warmth and comfort in living spaces.
How much does a polished concrete floor cost?
The cost of a polished concrete floor depends on the size and complexity of the project. Generally speaking, professional installation costs starts from $50 per meter square.
What are the benefits to using epoxy with a polished concrete floor?
Epoxy is often used in combination with polished concrete floors to provide added durability, stain resistance, and an attractive finished look. It can also reduce maintenance costs over time by protecting against wear and tear.
Can I install a polished concrete floor myself?
While it is possible to install a polished concrete floor yourself, it is not recommended for those without experience because installing one incorrectly could lead to costly repairs or replacements. It is best to hire a professional for this type of project.
Are there any special considerations when installing a polished concrete floor in my home?
Yes, you should make sure that your subfloor is structurally sound before beginning installation. You will also need to factor in costs for materials such as sealers and finishes if you plan on adding them after the fact. Additionally, consider how much traffic will be passing through the area as this will affect the overall finish of your project.
How long does it take for a polished concrete floor to cure?
The curing process can take anywhere from two days up to several weeks depending on temperature and humidity levels in the space where it is installed. Generally speaking, most floors will be ready for use within 7-14 days after installation has been completed.

Get In Touch